SPECIALITY FREIGHT
& SHIPPING SERVICES
CARAVAN & MOBILE HOME TRANSPORTATION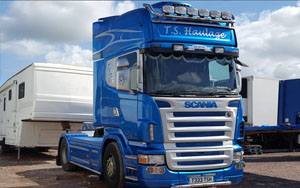 We specialise in transporting your park home or static caravan anywhere in the UK. Our highly trained drivers and all loads are fully insured.
Whether you need a single caravan transported from one location to another, or have a fleet to be collected from a manufacturer and delivered to your park, we will ensure that your caravan or mobile home is re-sited as needed. Maybe you need us to transport your load to an event or show? We aim to meet your requirements whatever they may be.
TS Haulage can provide a full range of logistic services and will arrange a tailor made solution for large or speciality shipments throughout the UK. We operate within both business and residential sectors and we do not impose size or weight restrictions or limitations.
In short, we ship just about anything, anywhere – just give us a call to discuss your requirements.
We are able to transport wide or abnormal loads safely and efficiently using specialist equipment and escort vehicles where necessary. The official definition of an 'abnormal load' is a vehicle that has any of the following: a weight of more than 44,000 kilograms, an axle of more than 10,000 kilograms for a single non-driving axle and 11,500 kilograms for a single driving axle, a width of more than 2.9 metres or a rigid length of more than 18.65 metres. If you need any advice regarding the movement of abnormal loads, feel free to get in touch.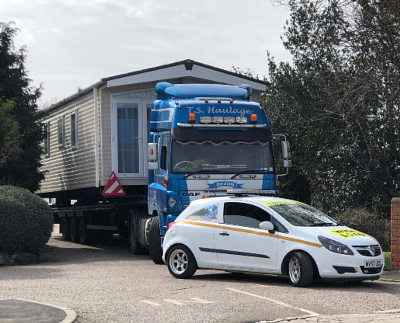 We have many haulage contracts with some very high profile clients including Supermarkets; most of these contracts have been in place over a period of years. Whether it's local or national, whatever products you need moved we can do this on time, every time!
So for any General Haulage needs including make us your first call as you wont be disappointed.
TS Haulage will provide a fully-trained driver to ensure that your goods will be transported as swiftly as possible whilst ensuring that all safety regulations are met. Our safety escort vehicles are specifically insured to cover the escorting of abnormal/wide loads on public highways. Our drivers have gained many years experience and valuable knowledge in providing escort vehicle services within the haulage industry and we all pride ourselves on the high quality, professional service that we provide.
Using our Articulated Crane Trailer, we can load and off load your difficult to handle items.
From Portable offices to Plant and Machinery, our stretchable low loader is a great tool to have at your disposal.
Fully licensed and insured, we can make light work of heavy situations.
CALL: 01884 840959 - 07875 170581
enquiries@tshaulage.co.uk